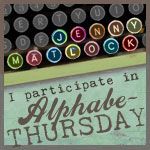 click here for lots of great "Ls"
It's "

L

" week...Let's share the

LOVE
a card I made this week
"All

love

is sweet. Given or returned. Common as light is

love

, And it's familiar voice wearies not ever"
~~Percy Bysshe Shelley
a Valentine Box I made over the last couple of weeks
"Paradise is always where

love

dwells."
~~Jean Paul Richter
another card I recently made
"Take away

love

and our Earth is a tomb."
~~Robert Browning
Ron and I at my 30th class reunion 2009 (it was actually held a year late)
"

Love

means to commit oneself without guarantee, to give oneself completely in the hope that our

love

will produce

love

in the

loved

person.

Love

is an act of faith, and whoever is of little faith is also of little

love

."
~~Erich Fromm
a
LOVE
Gothic Arch I made going on a year ago
"At the touch of

love

everyone becomes a poet."
~~Plato
An ATC I made a couple of years ago (blurry...it says to have and to hold)

"A simple I

love

you means more than money." ~~Frank Sinatra
another ATC

"In real

love

you want the person's good. In romantic

love

you want the other person." ~~Margaret Anderson
Wishing you all Much

LOVE

in ALL forms and ALL areas of your lives!!