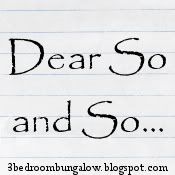 Dear Cold and/or sinus infection,
PLEASE,PLEASE,PLEASE go away, other than my knee I had been feeling pretty good there for a while!
NO LOVE LOST,
me
***********
Dear Son,
You are definitely on the $hit list and you know why, Try COMMUNICATION it goes a long way in preventing issues. You will be losing use of the truck for a week as per your father. (except to drive me to the doc's on monday)
We ARE NOT amused, and definitely needed you.
Love,
Mom
***********

Dear daughter,
you know which one. thanks for staying on top of what you were asked to stay on top of. Why are we all of a sudden not hearing from you? I am sad.
Love,
Mom
**********
Dear weather,
please do not be soooo cold. we have a definite firewood shortage right now. we are down to burning pallets...not good.
the occupants of the house