I have been very remiss in posting about this fabulous exchange and I am soo sorry for it...no excuses!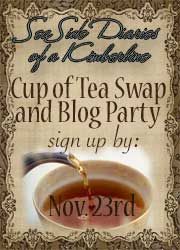 My Partner was Mother Moon (Janie) I was just bowled over by my lovely gift!!
without further adieu, here is what I rec'd.
Isn't that Vera Bradley mug gorgeous?!! I have not christened it yet. I did try a cup of the tea on YULE with one of the Honey sticks, I am going to have to try it again with either 2 honey sticks or other sweetener, it is a bit tart (citrus-y) for my tastes, but I LOVE the tin! The Card is also so pretty, I will find a way to recycle it, as I do with all my holiday cards.
THANK YOU so much Mother Moon!! I hope you enjoyed what I sent :)
and a HUGE thanks to Sara for hostessing such a fabulous exchange!!
the post
here
, tells about the partners, and when the participants rec'd their goodies!